In this blog post, we'll discuss the importance of pediatric dentistry and how it can help ensure your child's teeth are healthy and strong for years to come. As a parent, you want to ensure that your child grows up healthy and happy. One way to do this is by prioritizing their dental health from a young age.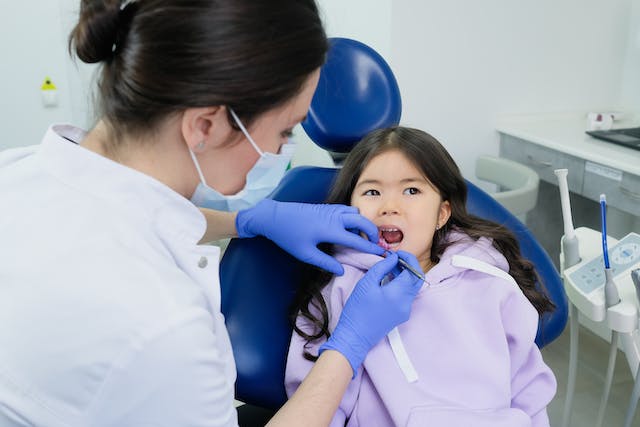 Why is Pediatric Dentistry Important?
Pediatric dentistry focuses on providing dental care to children from infancy to adolescence. It is essential to prioritize your child's oral health from a young age because early dental experiences can impact their future dental health. Here are some of the reasons why pediatric dentistry is so important:
Prevention
Prevention is key in pediatric dentistry. By bringing your child to the dentist regularly, they can receive preventative treatments like cleanings and fluoride treatments that can help protect their teeth from decay.
Early Detection
Regular dental visits also allow your child's dentist to monitor their oral health and detect any potential issues early on. Catching problems like cavities or misaligned teeth early can help prevent more significant dental issues down the road.
Education
Pediatric dentists also play a crucial role in educating parents and children about good dental habits. By teaching children about the importance of brushing and flossing, healthy eating habits, and regular dental visits, pediatric dentists can help set children up for a lifetime of good oral health.
What to Expect at Your Child's First Dental Visit
Your child's first dental visit is an essential step in establishing their dental health. Here's what you can expect at their first appointment:
Meet and Greet
Your child's dentist will begin by introducing themselves and getting to know your child. They'll likely spend some time talking to your child and making them feel comfortable in the dental chair.
Oral Exam
The dentist will then perform an oral exam to assess your child's dental health. They'll check your child's teeth for any signs of decay or other issues and examine their gums and other oral tissues.
Cleaning and Fluoride Treatment
After the oral exam, the dentist will likely clean your child's teeth and apply a fluoride treatment. These preventative measures can help protect your child's teeth from decay.
Education
Finally, the dentist will spend some time educating both you and your child about good dental habits. They may discuss proper brushing and flossing techniques, healthy eating habits, and the importance of regular dental visits.
Common Pediatric Dental Services
Pediatric dentists offer a variety of services to help ensure your child's teeth stay healthy and strong. Here are some of the most common services offered by pediatric dentists:
Dental Cleanings and Exams
Regular dental cleanings and exams are an essential part of maintaining good oral health. Pediatric dentists recommend that children receive a cleaning and exam every six months to keep their teeth healthy and clean.
Fluoride Treatments
Fluoride is a mineral that helps protect teeth from decay. Pediatric dentists often recommend fluoride treatments as a preventative measure to keep children's teeth healthy and strong.
Dental Sealants
Dental sealants are a protective coating that can be applied to your child's teeth to help prevent decay. They're often used on the back molars, which are prone to decay because they're difficult to clean.
Caring for Your Child's Dental Health: Conclusion
In conclusion, dental care for children is extremely important and can impact their overall health and well-being throughout their lives. It's crucial to instill good dental hygiene habits early on and to make regular visits to the dentist a priority. With the help of Lawrence Shtarkman DDS And Daniel Kluchman DDS, dentists at Ideal Smiles Dental located in Staten Island NY, parents can ensure that their children are receiving the best possible care for their dental health.
At Ideal Smiles Dental, we offer a wide range of pediatric dental services to keep your child's smile healthy and bright. Schedule an appointment with Dr. Shtarkman or Dr. Kluchman today by calling us or visiting our website at https://www.idealsmilesdental.com/contact-us/.
We look forward to helping your child achieve optimal dental health!
Ideal Smiles Dental
2955 Veterans Rd. W,
Suite 2G
Staten Island, NY 10309
718-535-1196
Email: idealsmilesdental@gmail.com
https://www.idealsmilesdental.com